Braves catcher Tyler Flowers looking forward to post-knuckleball offensive outlook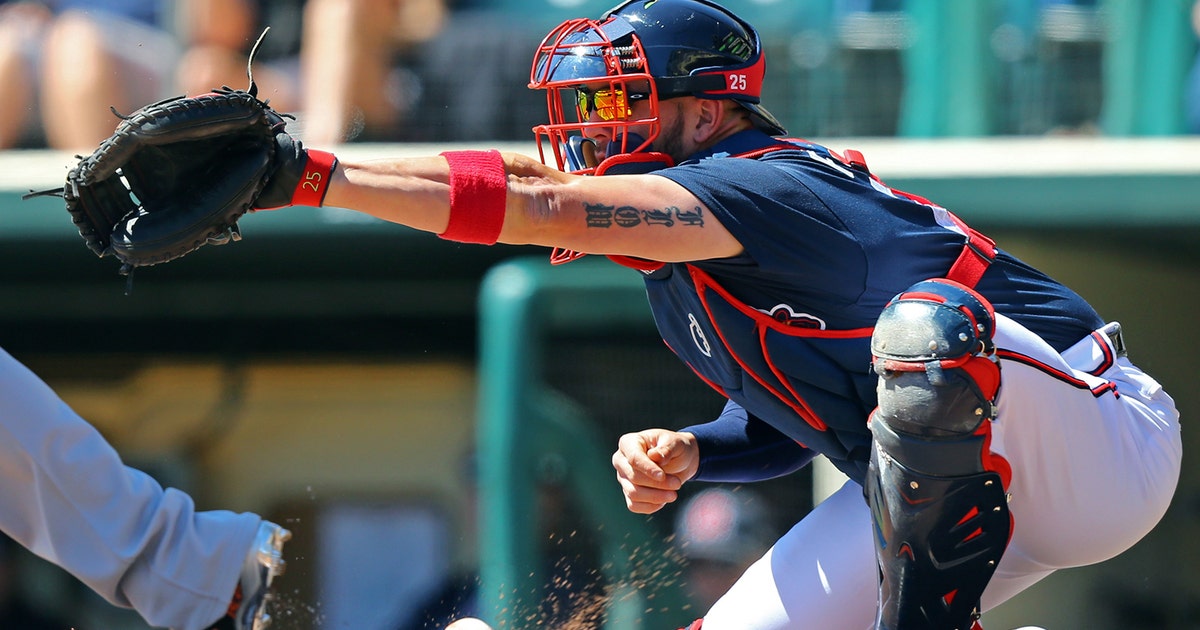 LAKE BUENA VISTA, Fla. — Tyler Flowers' days of embracing the mental challenge of catching the knuckleball are over.
With the Atlanta Braves declining former teammate R.A. Dickey's club option this offseason, the franchise's returning catching platoon of Flowers and Kurt Suzuki can set their collective sights on more traditional duties behind the plate in 2018 — which could provide in relief on multiple fronts.
"It was a fun challenge," Flowers said of Dickey's signature pitch. "As comfortable as you could be catching a knuckleball, I felt like I got more comfortable with it. But once you got really confident and then one gets by you, and then another one, it's like, 'Man, I can't do this anymore.' It was a real head game."
The physical act of catching the unpredictable pitch and preventing baseballs from rolling to the backstop is the obvious hurdle, but Flowers was quick to mention the secondary drawback: His offensive production. Even in the middle of a career year at the plate for both veteran catchers — Atlanta's platoon led the majors with 5.1 wins above replacement and 121 weighted runs created plus — Flowers noticed his hitting numbers dip on days when he caught Dickey.
"It really kind of messes with your timing and everything," said Flowers, who posted a .378 on-base percentage with 12 home runs last season. "It would be interesting if one of you guys looked into that: the correlation between catching a knuckleball and offensive success, because there's definitely a correlation. I looked into it some with some other guys. It's definitely not made up.
"It's a common thing: Russell Martin, Salty (Jarrod Saltalamacchia), (Jason) Varitek when he caught (Tim) Wakefield for a bit."
Flowers, 32, took over primary catching duties for Dickey in early June. In 100 1/3 innings catching the knuckleball, his pitcher's numbers improved dramatically, thanks in part to Flowers' pitch-framing ability, but the additional obstacle at the plate undercut his career year. Here are Flowers' offensive splits on days he caught the knuckleball and days he did not:
Catching R.A. Dickey: .218/.307/.345, 29.0 strikeout rate
Not catching R.A. Dickey: .294/.393/.466, 20.1 strikeout rate
In other words, Tyler Flowers hit like Buster Posey in the 308 plate appearances that fell on days he did not catch the knuckleball.
Following this trajectory, Flowers' offensive production dipped 15 percentage points (wRC+) in the season's second half. Suzuki's offensive production after stepping away from Dickey's primary catching duties jumped from 108 first-half wRC+ to 148 second-half wRC+.
This serves as yet another reason why teams employing a knuckleball pitcher typically assign his catching duties to a specialist, though with the way Flowers and Suzuki both hit last season it was difficult for manager Brian Snitker to keep either one out of the lineup. That will not be an issue during the encore.