Preview: Coyotes at Sharks, 8 p.m., FOX Sports Arizona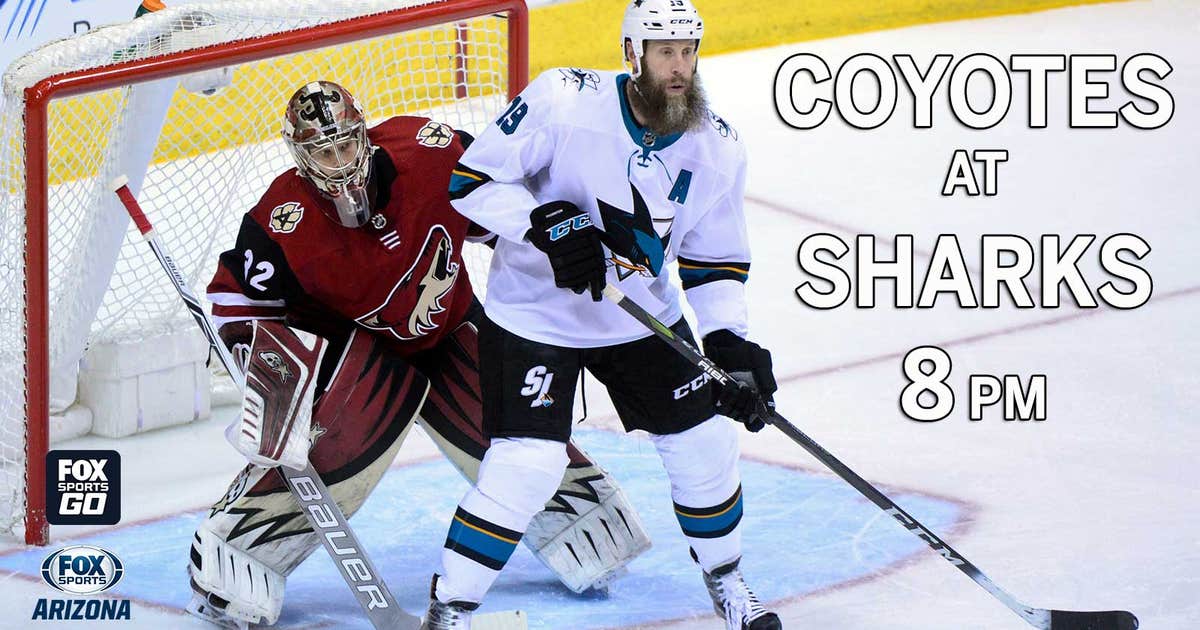 Streaming live on FOX Sports GO
The San Jose Sharks have won the first three meetings against the Arizona Coyotes this season and go for the season sweep on Tuesday night at the SAP Center, but it's not as if the Coyotes head into the game feeling overmatched.
Each of the victories has been hard fought – with San Jose closing out a 3-1 victory in late November with an empty-net goal and then needing overtime and a shootout to win back-to-back games in mid January.
With 68 points, San Jose (30-18-8) is second in the Pacific Division, two points ahead of the Calgary Flames and three in front of the Los Angeles Kings and Anaheim. The Sharks are 14-3-3 this season against Pacific Division foes after posting back-to-back wins over Edmonton and Anaheim on Saturday and Sunday. They needed a shootout to notch Sunday's 3-2 win over the Ducks.
"It's going to be a battle," Sharks center Logan Couture said after notching the winner in Sunday's tiebreaker. "We're excited for it. A lot of guys on our team have been around these battles for a while and it brings out the best of us, I believe, when we're going down the stretch and battling for a spot."
San Jose has missed the postseason only twice in last 20 seasons and is just two years removed from its only Stanley Cup finals appearance. Coach Peter DeBoer credits the current veterans with the experience needed to help the younger players, such as winger Timo Meier, who has two goals and two assists in the last three games.
"There's no doubt it starts there," DeBoer told the San Jose Mercury News. "Those guys never change — Pav (Joe Pavelski), Burnzie (Brent Burns), Logan and (Marc-Edouard) Vlasic — their demeanor doesn't change whether we're up, whether we're down."
"Dirty goals. That how you get out of slumps." The @ArizonaCoyotes were filthy last night. pic.twitter.com/X803BsXH3x

— FOX Sports Arizona (@FOXSPORTSAZ) February 13, 2018
In three games against the Coyotes this season, Burns collected five of his team-high 39 assists, while Pavelski has four points (goal, three assists). Couture, who leads the Sharks with 23 goals, has a pair of goals and one assist vs. Arizona.
In his last five games, San Jose's Martin Jones is 2-2-1 with a 1.96 goals-against average and .934 save percentage. He is 3-0-1 with 1.62 GAA and .927 percentage with a shutout in five career home starts versus Arizona.
The Coyotes (14-32-10) have 11 players who are 25 and younger, and many played key roles in a 6-1 win over the Chicago Blackhawks on Monday night. Six different players scored goals, including Max Domi (22 years old), Clayton Keller (19) and Christian Dvorak (21). The six goals were a season high.
"We didn't have a single passenger," said Domi. "Everyone was contributing. Everyone wanted to be a part of it. No one let up."
Max Domi: We didn't have a single passenger, no one let up. #Yotes win it, 6-1 pic.twitter.com/kZXCNECHgN

— FOX Sports Arizona (@FOXSPORTSAZ) February 13, 2018
Fourth-line wing Nick Cousins also scored on Monday night – his 10th of the season and fifth in the last eight games. They've gotten scoring from up and down the lineup – with 16 different goal-scorers in the last 12 games.
The Coyotes are 2-1-1 in their last four games, scoring 16 goals in the process. But they are 0-6-2 this season in the back end of games played on consecutive nights and have not beaten San Jose since posting a 3-2 shootout win on Feb. 4, 2017.
Coach Rick Tocchet said following Monday night's win that he hadn't yet determined who would start in goal vs. San Jose.
Antti Raanta made 37 saves against Chicago on Monday. He is 0-1-1 against San Jose this season despite allowing only two goals on 31 shots.