PREVIEW: Ducks, battling for playoff spot, host Canucks (6:30p, Prime Ticket)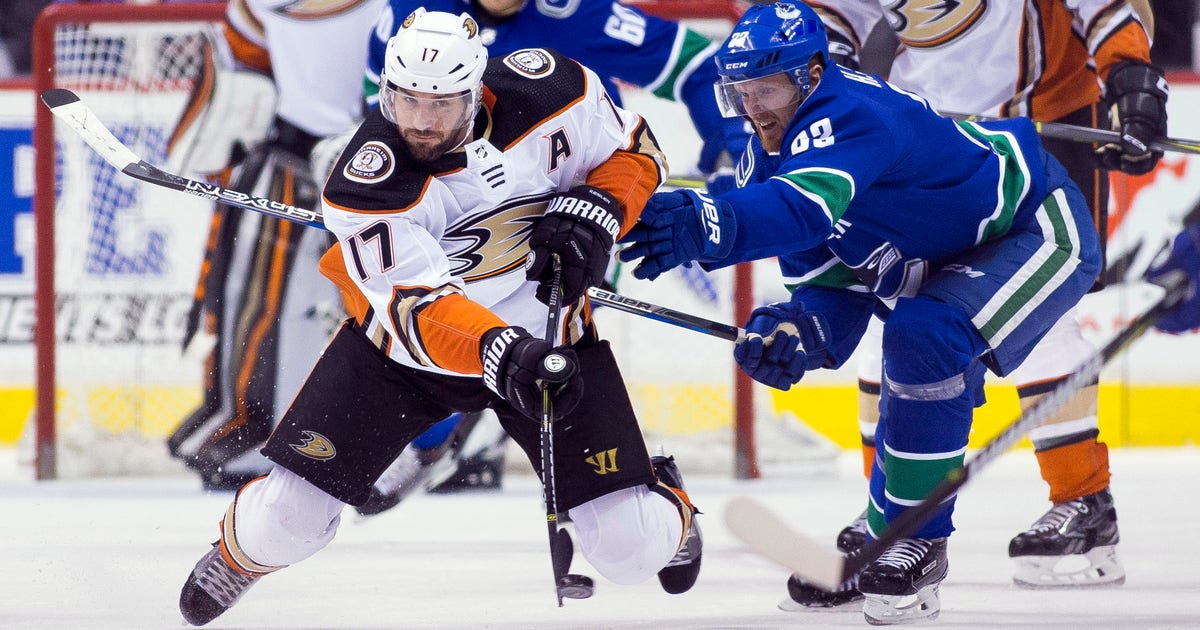 6:30p: PRIME TICKET
The Anaheim Ducks continue a pivotal four-game homestand against the Vancouver Canucks on Wednesday night at Honda Center.
The Ducks (34-24-12) lost to the St. Louis Blues 4-2 on Monday night, extending their losing streak to three games and evened their record in March to 3-3-0. The Blues jumped out to a 2-0 lead early in the second period and never trailed. Center Derek Grant got Anaheim to within 3-2 at 6:15 of the third period but a defensive zone giveaway by defenseman Kevin Bieksa led directly to a goal by the Blues' Patrick Berglund at 11:28 of the final period that sealed the victory.
The loss was costly for Anaheim, knocking them out of third place in the Pacific and out of a playoff spot in combination with the Los Angeles Kings' victory over the Canucks. The disappointment over the defeat focused on the team's mental approach against a St. Louis team that had only won twice in its last 11 games.
Center Ryan Getzlaf registered an assist against St. Louis and has 15 points in his last eight games (3 goals, 13 assists). He said that more consistency is needed in the on-ice decision-making process to snap the losing streak and climb back into playoff position.
"We need to figure it out mentally, everything we're doing is mental mistakes," Getzlaf said. "It's not anything to do with physical fatigue. We're working and doing things but it's the mental errors that aren't allowing us to continue our success. It's not a frustration with our effort. It's a frustration with the fact that we're having trouble understanding what it takes shift in and shift out every period at this time of year. That's the frustrating part we have to address and make sure we're doing that on a consistent basis."
Ducks coach Randy Carlyle concurred with Getzlaf and noted that execution is at a premium with just a dozen regular-season games remaining.
"We need to understand there is a certain type of game that's being played right now," Carlyle said. "We've given the opposition too many gifts in the last little while. Those are mental breakdowns that have to be corrected."
The Canucks (25-36-9) were shut out for the second consecutive game by Los Angeles, 3-0 on Monday night, their fourth straight loss and seventh in their last eight games. Kings goaltender Jonathan Quick turned aside 35 Vancouver shots to extend the Canucks' scoreless streak to 152:51 of play. Jussi Jokinen registered the last Canucks goal in Friday's 5-2 home loss to the Minnesota Wild.
The Ducks have won both of the previous meetings this season, 4-1 on Nov. 9 in Anaheim and 5-0 in Vancouver on Jan. 2. The teams will meet for a final time on March 27 at Rogers Arena.