Colon shakes off liner to stomach, Rangers beat Mariners 5-1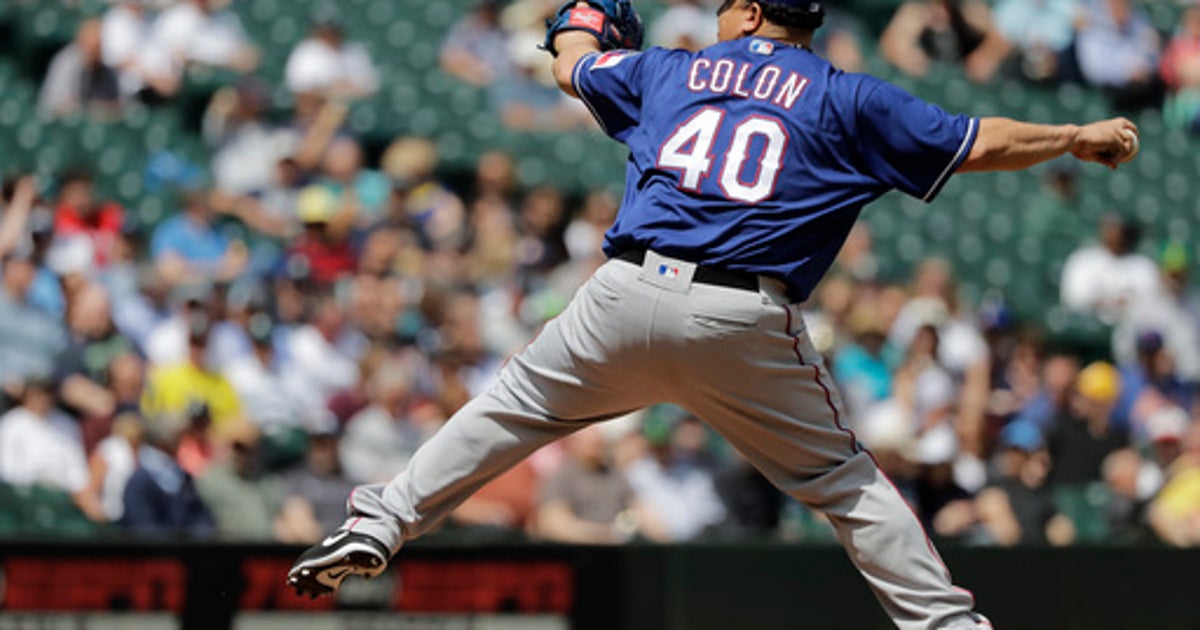 SEATTLE (AP) Bartolo Colon laughed off having Jean Segura's line drive hit him in the stomach, allowing four hits in 7 2/3 shutout innings and giving the Texas Rangers a 5-1 win over the Seattle Mariners on Wednesday.
Colon (2-1), who turns 45 on May 24, struck out two, walked none and threw 71 of 96 pitches for strikes.
Delino DeShields gave Texas the lead with a two-out RBI double in the eighth inning that scored Isiah Kiner-Falefa, who had singled off James Pazos (1-1). The Rangers added four more in the ninth, all after Ryon Healy's two-out error.
PHILLIES 4, ORIOLES 1
BALTIMORE (AP) – Nick Pivetta (3-2) tied a career-high with 11 strikeouts, and Cesar Hernandez homered as Philadelphia (24-16) climbed eight games over .500 for the first time since the end of the 2011 season.
Odubel Herrera singled in the first and extended his on-base streak to 42 games for the Phillies, who have won six of seven.
Andrew Cashner (1-5) allowed three runs, five hits and three walks over 5 2/3 innings. He has not won since April 5. Baltimore (13-29) has the second-worst record in the AL.
PIRATES 3, WHITE SOX 2
PITTSBURGH (AP) – Pinch-hitter Josh Bell singled off Joakim Soria (0-2) to break a 2-2 tie in the seventh.
Pittsburgh has won seven of eight and improved to 10-2 in interleague play this season. Chicago has lost eight of nine and 13 of 15. A major league-worst 10-29, the White Sox have matched their worst start since 1948.
Rookie Edgar Santana (1-0) allowed one hit in 1 1/3 scoreless innings for his first major league win, and Felipe Vazquez remained perfect in eight save opportunities.
INDIANS 6, TIGERS 0
DETROIT (AP) – Trevor Bauer (3-3) struck out 10 in eight innings and allowed four hits as Cleveland avoided a three-game sweep.
Ryan Carpenter (0-1) gave up six runs – five earned – and seven hits in five innings, and his throwing error to first on a comebacker allowed the first run to score. Tigers center fielder JaCoby Jones left in the third with a left hip injury.
Michael Brantley had three hits, including a solo homer.
CARDINALS 7, TWINS 5
MINNEAPOLIS (AP) – Dexter Fowler reached base four times and drove in two runs in his return to the lineup. Matt Carpenter had three hits after being demoted to seventh in the batting order, and Tommy Pham added two hits, including his eighth homer of the year.
Jordan Hicks (2-1) pitched a scoreless inning, and Bud Norris got five outs for his ninth save.
Former Cardinal Lance Lynn (1-4) gave up three runs, four hits and four walks in three innings.
BLUE JAYS 12, METS 1
NEW YORK (AP) – J.A. Happ (5-3) reached three times and allowed only two runners over seven innings, and Toronto got its first road victory at the Mets after going 0-12.
Happ struck out 10 while pitching two-hit ball. The left-hander also singled twice and walked in his first multihit game since 2011, when he had two hits for Houston at Citi Field.
New York's Brandon Nimmo homered off Danny Barnes with two outs in the ninth and Wilmer Flores added a double before Barnes finished a four-hitter.
Justin Smoak, Teoscar Hernandez and Richard Urena each homered and drove in three runs as Toronto piled up 15 hits.
Zack Wheeler (2-3) was charged with six runs, seven hits and three walks in four-plus innings, bringing his ERA to 5.92.
RAYS 5, ROYALS 3
KANSAS CITY, Mo. (AP) – C.J. Cron homered and scored three runs, and Tampa Bay completed a three-game sweep of the woeful Royals.
Cron extended his on-base streak to 22 games when he was hit by a pitch from Jason Hammel (0-5) in a three-run first that included Brad Miller's RBI groundout and Adeiny Hechavarria's two-run single.
Matt Andriese (1-1) allowed three hits in three scoreless innings, and Alex Colome pitched a one-hit ninth for his ninth save. Tampa Bay swept the Royals for the first time since 2011.
Kansas City has lost five straight, dropping to 13-30 for its worst start since 2006. Hammel gave up five runs and 10 hits in six innings and is 0-8 with a 7.28 ERA in 13 starts since winning at Detroit on Sept. 6.
BREWERS 8, DIAMONDBACKS 2
PHOENIX (AP) – Travis Shaw, Domingo Santana, Christian Yelich and Tyler Saladino homered in the first four innings off Matt Koch (2-0), who allowed all eight runs.
Brandon Woodruff (2-0) gave up one hit in five innings, Daniel Descalso's two-run homer in the first.
Milwaukee has won three of four, outscoring opponents 23-9. Arizona finished a 1-6 homestand and has lost seven of eight heading into a nine-game trip.
REDS 6, GIANTS 3
SAN FRANCISCO (AP) – Scooter Gennett homered a half-inning after the second baseman saved two runs with a diving catch on a difficult popup, helping Cincinnati avoid a sweep. Adam Duvall hit a three-run homer in the first, and Jared Hughes (2-2) pitched two scoreless innings as Cincinnati won for the seventh time in nine games.
Staked to a 4-0 first-inning lead, Reds Matt Harvey allowed three runs, seven hits and four walks in four innings. Raisel Iglesias got three outs for his eighth save.
Andrew Suarez (1-3) gave up five runs and eight hits in six innings.
—
More AP baseball: https://apnews.com/tag/MLBbaseball