May: Trump-Putin Summit Should Reduce Risk Of NATO-Russia Conflict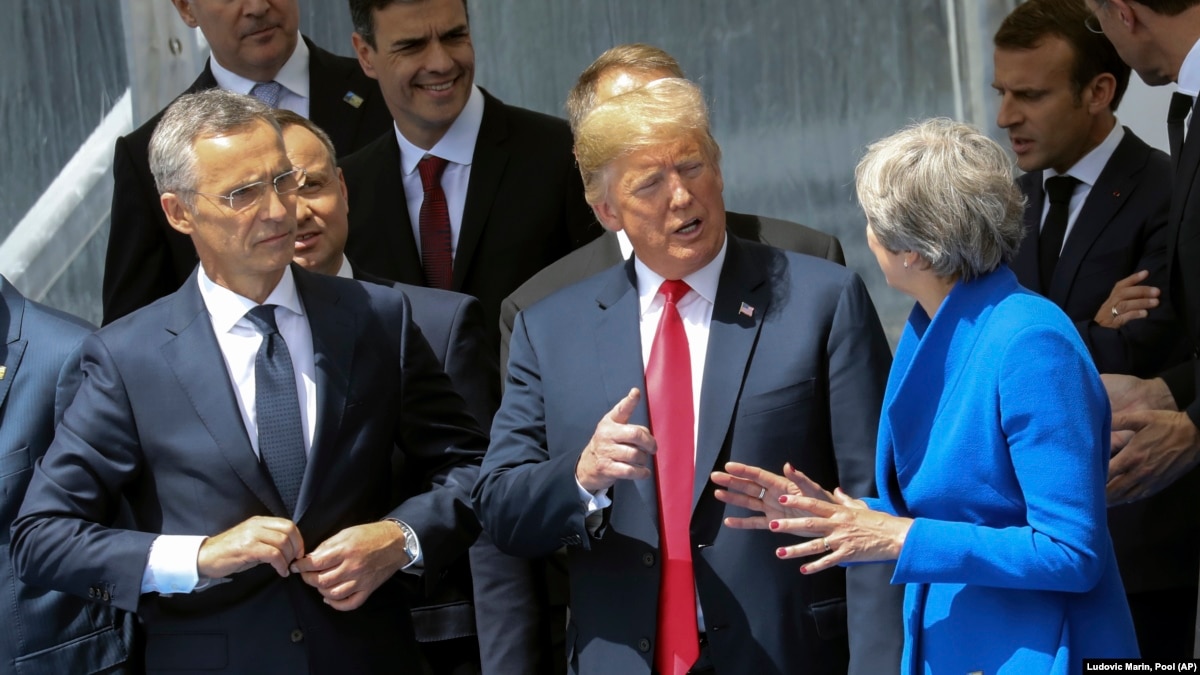 British Prime Minister Theresa May has welcomed a summit between U.S. President Donald Trump and his Russian counterpart Vladimir Putin, saying it should be used to lower the risk of conflict between NATO and Moscow.
At a dinner for NATO leaders late on July 11 in Brussels after a day of confrontations between U.S. President Donald Trump and European leaders, May offered an upbeat assessment of Trump's much-anticipated meeting with Putin on May 16.
"I welcome President Trump's forthcoming meeting with President Putin: open channels of communication between the U.S. and Russia are key to managing the risks of confrontation," she said, according to her spokesman.
At the dinner, May highlighted Moscow's "malign activity," including Kremlin-linked cyberattacks on the West and the alleged use of a Soviet-era nerve agent against a former Russian spy on British soil, the spokesman said.
London's relations with Moscow have been severely strained ever since what Britain called Russia's attempted murder of former Russian double agent Sergei Skripal and his daughter Yulia.
The incident led to the largest expulsion of Russian diplomats since the Cold War. Russia denied London's accusations and responded with tit-for-tat expulsions of Western envoys.
Still, Britain has advocated cautiously maintaining communications with Moscow. At the NATO dinner, May said that engagement with Russia must come from a position of strength, underpinned by a strong transatlantic alliance, her spokesman told reporters.
"As we engage Russia we must do so from a position of unity and strength — holding out hope for a better future, but also clear and unwavering on where Russia needs to change its behavior for this to become a reality," she was quoted as saying.
"And, as long as Russia persists in its efforts to undermine our interests and values, we must continue to deter and counter them."
Pointed Accusations
May's endorsement of the Trump-Putin meeting comes after a day of pointed accusations by Trump against NATO allies — Germany, in particular — that some officials at the summit said raised questions about his commitment to the military alliance, which he has repeatedly and openly criticized.
While Trump in the past has called on other NATO members to meet their commitments to spend 2 percent of economic output on defense, the American leader stunned his European counterparts on July 11 by reportedly calling on them for the first time to double that goal to 4 percent.
WATCH: NATO leaders gather for a summit in Brussels amid deep divisions on trade and defense spending.
​Despite the discord between the longtime transatlantic allies, the summit on its first day produced a strong statement calling for "fair burden-sharing" and criticizing Russia.
"We will continue to stand together and act together, on the basis of solidarity, shared purpose, and fair burden-sharing," it said.
NATO Secretary-General Jens Stoltenberg credited Trump for pushing members to increase defense spending. He noted that European countries and Canada are expected to "add an extra $266 billion to defense between now and 2024."
The NATO statement also extended an invitation to Macedonia to join the alliance following its landmark settlement of a long-running name dispute with NATO member Greece.
NATO also reaffirmed its rejection of Russia's 2014 annexation of Ukraine's Crimea Peninsula, with Stoltenberg saying that Russia's move was "one of the main reasons why NATO has implemented the biggest reinforcement of collective defense since the Cold War" and has increased its presence in Poland as well as in Baltic and Black Sea states.
NATO is sending Russia "a very clear signal that anything similar to what happened in Crimea cannot happen against any NATO country," Stoltenberg said.
The NATO summit on July 12 will focus on the conflicts in Afghanistan and Ukraine. Both Afghan President Ashraf Ghani and Ukraine's Petro Poroshenko have been invited to attend the day's discussions.
With reporting by AP and Reuters