Eagles blow pair of leads in losing 26-23 to Titans in OT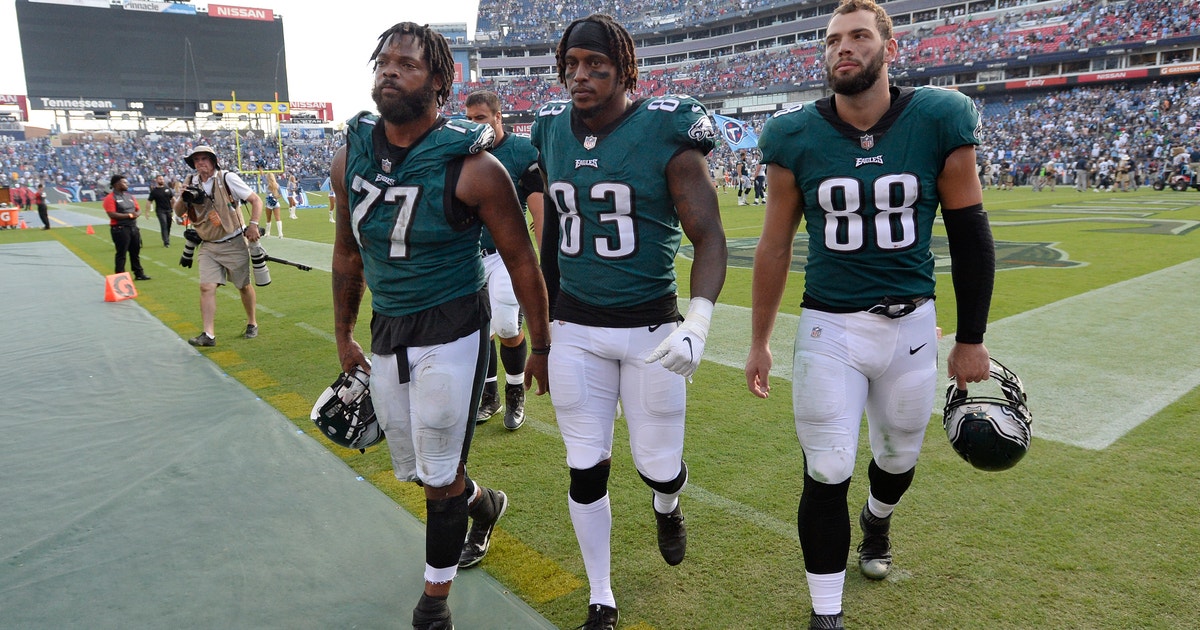 NASHVILLE, Tenn. (AP) — The Philadelphia Eagles are the healthiest they've been with now both Carson Wentz and wide receiver Alshon Jeffery back in the lineup.
Getting the timing and chemistry back might take a little bit more work.
The Eagles blew a 14-point lead midway through the third quarter and still had chances at the end of regulation and in overtime, needing a touchdown to win but settling for a pair of field goals that weren't enough Sunday in a 26-23 loss to the Tennessee Titans .
"It's frustrating, obviously, to come up short, especially as an offense when you have chances," Wentz said.
"We had chances to finish in the end zone at the end of the game, finish in the end zone in overtime. And we just didn't execute in the red zone the way we wanted to, and you can look at all sorts of plays from the game. At the end of the day, we just didn't finish as an offense and as a team either."
Philadelphia (2-2) outgained Tennessee 432-397. Wentz threw for 348 yards and two touchdowns, and Jeffery finished with eight catches for 105 yards and a TD in his season debut . Zach Ertz led the Eagles with 10 catches for 112 yards.
The Eagles led 10-3 at halftime, 17-3 midway through the third quarter and even 23-20 in overtime. They simply couldn't find the play to pull out their third straight win.
Coach Doug Pederson said he thinks the effort is there.
"The mistakes we're making are all fixable, whether it's a coverage element being out of position or just a holding along the perimeter offensively we can't do," Pederson said. "It's things we can correct in practice during the week, and that's what we have to do."
Pederson said the Eagles stopped themselves on the two late drives. The Eagles also gave up four sacks, the last with Wentz stripped of the ball setting up a Tennessee field goal early in the fourth quarter. That was the lone fumble of three Philadelphia lost.
The Eagles also were flagged eight times for 77 yards.
"Whether it was just execution, maybe a penalty backed us up just a touch, a sack, something negative happened," Pederson said. "It just got us out of our rhythm. It's seems like we got down there fine, and Tennessee bowed their neck and kept us to three, much like our defense has done for the first month of the season."
The Eagles also had some dropped passes, particularly Nelson Agholor, who caught only five of the 12 balls Wentz threw at him with four drops.
"That's not something you want to do," Agholor said. "You take the frustration outside of it, you know, that's your job. You just get a little upset because you prepare for it, but you have to work harder and you have to bounce back."
The Eagles couldn't convert on a pair of third downs late.
Wentz threw the ball away on third-and-3 just before Jake Elliott kicked a 30-yard field goal with 16 seconds left in regulation. Wentz said the Titans had them covered, along with some miscommunication. Ertz couldn't pull in Wentz's pass on third-and-12 at the Titans 19 in overtime before the Eagles settled for Elliott's third and final field goal.
Ertz said the Eagles cannot simply rely on what worked last season.
"We can't say that we're just going to flip a switch, and we're just going to start going on a roll and win nine in a row," Ertz said. "We're playing really good football teams, and we've just got to find a way to win. The thing that sticks out about this team is typically we find a way to win. Today we just dropped the ball. They beat us and my hat's off to them."