Rays cap best season in 6 years with 90th win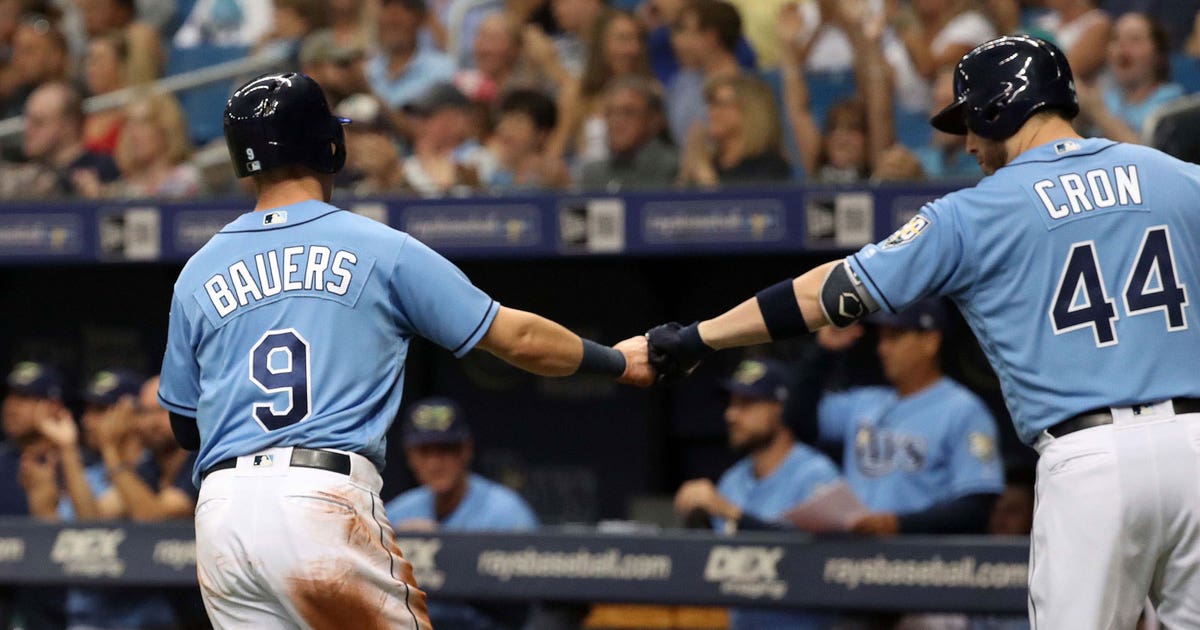 ST. PETERSBURG, Fla. (AP) — Ryan Yarbrough got his rookie-leading 16th win and the Tampa Bay Rays turned another bullpen game into their 90th victory, beating the Toronto Blue Jays 9-4 on Sunday.
The Rays (90-72) went to the unconventional plan of using relievers to start games in addition to traditional starters in mid-May due to injuries.
The results were about equal, as Tampa Bay went 46-38 with regular starters and 44-34 when utilizing the bullpen.
Ryne Stanek was Tampa Bay's "opener" for the 29th time and went two scoreless innings. Yarbrough (16-6) followed and gave up two runs and four hits over three innings to get his 14th relief win.
The Rays went 87-60 after losing 12 of their first 15 games.
Outgoing Blue Jays manager John Gibbons decided to have some fun in the finale and let 35-year-old catcher Russell Martin manage the game.
Martin "thought about it for a couple seconds" before deciding not to be a player-manager.
Toronto announced Wednesday that Gibbons will not be back as manager next season.
"He's one of my favorites," Martin said. "I'm going to miss him. He's a special guy. He's kind of like having a second dad."
Over two stints totaling 11 seasons, Gibbons went 793-789 with the Blue Jays.
Toronto finished 73-89, a three-game drop from 2017.
Tampa Bay improved 10 games from last year and joined the 2012 Rays (90) and 2013 Texas Rangers (91) as the only 90-win teams since the second wild card was introduced in 2012 to miss the postseason.
Joey Wendle and Jake Bauers both had two RBIs for the Rays, who went 13-6 against Toronto. Tampa Bay has dominated the series at home, going 111-74.
Loser Sam Gaviglio (3-10) allowed five runs and six hits in 5 2/3 innings.
SEATS AVAILABLE
Despite the strong on-field showing, the Rays' announced home attendance of 1,154,973 was their lowest since 2005 (1,141,699). Tampa Bay drew 1,253,619 last season. Sunday's crowd was 13,313.
STAYING THE COURSE
The Rays are happy with the progress of two-way player Brendan McKay at Class A Charlotte this season and plan to continue the experiment. "Where this ends up going I think we don't know exactly still, but we're really encouraged," Tampa Bay senior vice president of baseball operations Chaim Bloom said.
Bloom said McKay, whose season ended prematurely due to an oblique injury, has been at instructional league and has gotten back "to where he's a healthy player."
HOT STREAK
Rays LF Tommy Pham walked in the third to extend his on-base streak to 32 games, the longest active streak in the majors. Johnny Damon holds the team record with 39.
UP NEXT
Blue Jays: Open the 2019 season at home against Detroit on March 28.
Rays: Host AL West champion Houston on March 28 in their 2019 opener.