Thomas will return to Denver with Houston on Sunday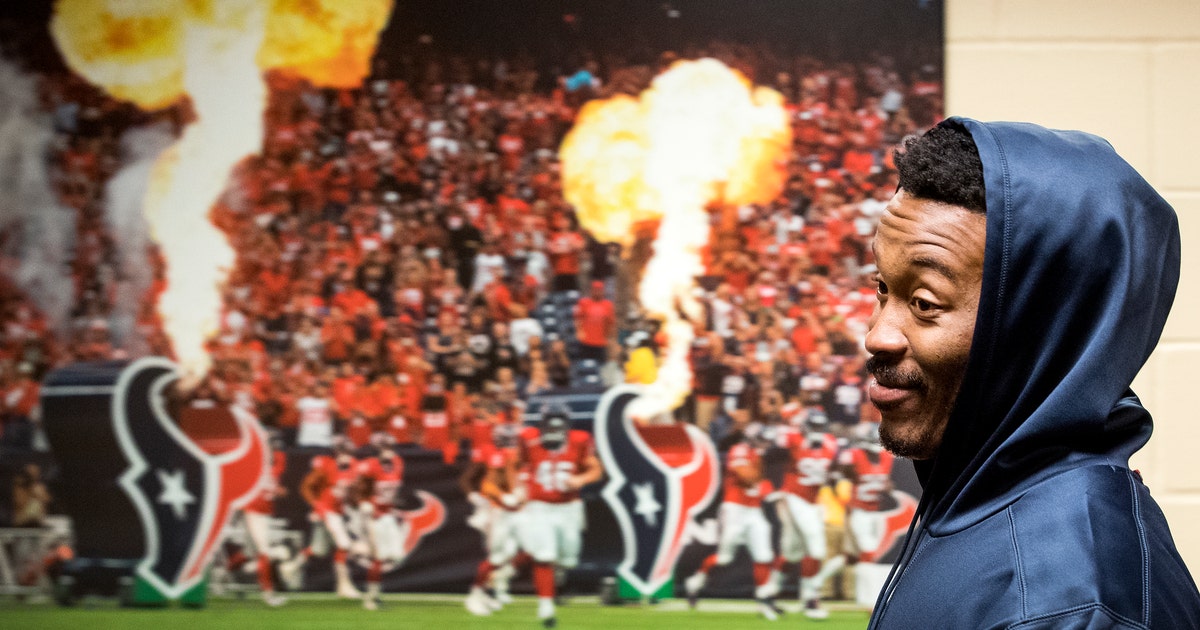 HOUSTON (AP) — Demaryius Thomas is playing for a team other than the Denver Broncos for the first time in his career after his trade to the Houston Texans.
The receiver won't have long to miss Denver though, with the Texans visiting the Broncos on Sunday.
"It was strange to get traded first off, and then come here and get ready to play in the Mile High City that you've been playing for the last 8½ years is very strange," Thomas said.
The Texans traded for Thomas on Tuesday, adding the veteran to replace Will Fuller, who tore a knee ligament in Houston's win over the Dolphins last week. The 30-year-old Thomas was a first-round pick by the Broncos in 2010 and has piled up 9,055 yards receiving with 60 touchdowns since then.
"I like his size … I think he can do a lot of different things," coach Bill O'Brien said. "I like his intelligence, his experience. I don't think there's any substitute for experience. Obviously, he's got good hands. There's a lot of things to like about Demaryius Thomas."
Acquiring Thomas was a big move for a team which has reeled off five straight wins since opening the season 0-3 to move into first place in the AFC South. The Texans have star receiver DeAndre Hopkins, but didn't have any proven playmakers to pair with Hopkins after Fuller was lost for the season.
Quarterback Deshaun Watson, who tied a career high with five touchdown passes against the Dolphins, is excited about the possibilities for this offense with two receivers as talented as Hopkins and Thomas. Watson doesn't think it will take long for Thomas to get acclimated in Houston and expects big things from him immediately.
"It's going to be great," Watson said. "Nothing really should stop the train. (Thomas) is a veteran guy that can do a lot of different things and he's played a lot football, so it's a great opportunity for all of us to get on the same page and continue to put a lot of yards in the air and put a lot of points on the board. We're going to bring him along and he's going to fit in … well."
Despite his years of experience, Thomas admitted to being a little nervous on his first day with the Texans on Wednesday.
He said the transition was made easier by the warm welcome he received from his teammates, including Watson, who was the first to text him after the trade. Thomas said he's admired Watson from afar for a while and is looking forward to playing with him.
"He gets the ball out, great throws, on time, on point," Thomas said. "He can also scramble, too, and that's another exciting thing. That's some of the things you see from him that you can count on as a receiver, because if he scrambles outside of the pocket, he's looking downfield, he's not looking to run. So, that's big plays for guys like me, Hop (DeAndre Hopkins) and everybody else."
Another change Thomas will have to get used to in Houston is wearing a different number since the No. 88 he's worn for his entire NFL career is taken by rookie tight end Jordan Akins. NFL rules mandate that a player isn't allowed to change numbers if he's played more than 30 percent of the team's snaps on his side of the ball in a season, which applies to Akins.
Thomas didn't know the rule when he first learned of the trade and was prepared to negotiate with Akins for the number.
"I was ready to pay him and everything," he said. "I was going to give him whatever he wanted for it."
Since that wasn't an option, Thomas settled on No. 87, but said that if he remains in Houston next season he'll try and snag his number back.
With his new team and his new number, Thomas is ready for a new start in Houston. But first he'll have to revisit his past on Sunday and knows that it will be a difficult trip considering all the memories he made in his time in Denver.
"It'll be tough," he said. "But that's ball and I have to deal with it."