No. 6 Ohio St. ignores sideshows as Big Ten title game looms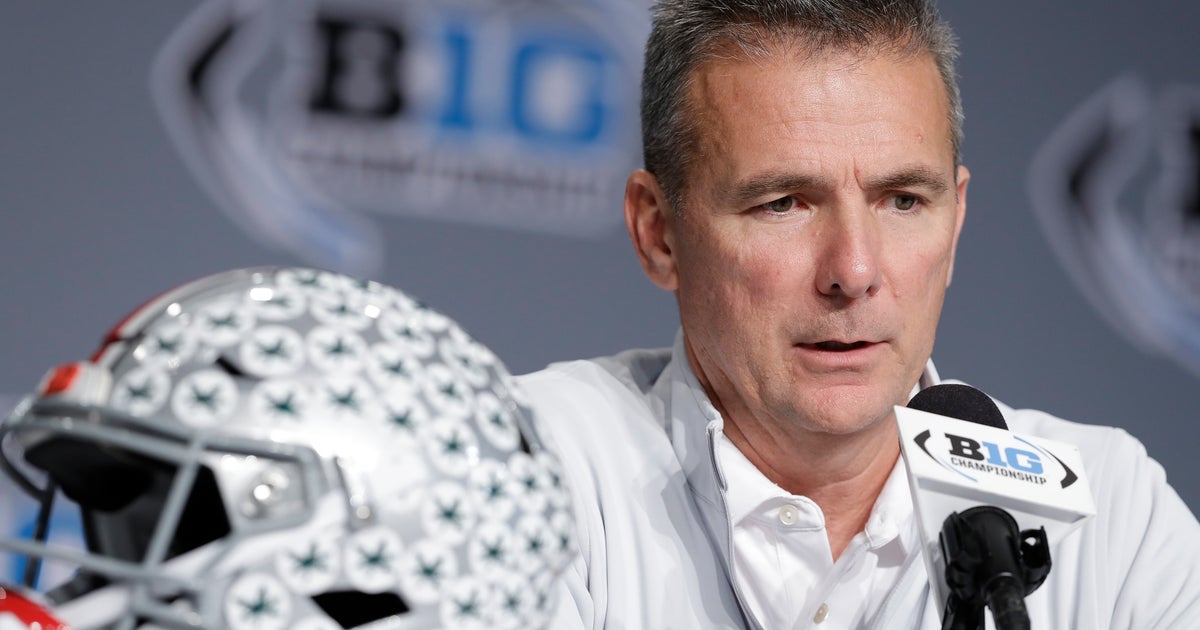 INDIANAPOLIS (AP) — Urban Meyer arrived in Indianapolis on Friday with one goal — heading home with another Big Ten championship trophy.
He treated everything else as a sideshow.
Meyer ignored speculation about his coaching future and deflected talk about what No. 6 Ohio State would need to earn a spot in the college football playoff. Instead, Meyer stuck to the same message he's relayed to his team all week: Just focus on football.
"We wanted to be hard on them, be fresh and be mentally prepared and I think we're there," Meyer said. "I like where we're at."
Being back in Indy for another shot at the title and yet another possible playoff berth should be a relief in itself.
Seven weeks ago, the Buckeyes' championship hopes nearly vanished with an embarrassing 49-20 loss at Purdue. But Ohio State rebounded by hanging on against Nebraska, walloping No. 18 Michigan State and outlasting Maryland in overtime before moving back into playoff contention with an impressive 62-39 Big Ten East-clinching victory over No. 4 Michigan
Since then, Meyer has dealt with all sorts of chatter and speculation, ranging from potential playoff scenarios to reports about his future at Ohio State (11-1, 8-1, No. 6 CFP),
"Uh, no comment on that," Meyer said when asked Friday about a report that next season would be his last in Columbus, Ohio.
Northwestern, meanwhile, continues to embrace playing the underdog.
Few expected the Wildcats (8-4, 8-1, No. 19) to dethrone Wisconsin in the Big Ten West, especially after losses to Duke, Akron and Michigan in successive weeks in September. But their only other stumble came against Notre Dame, another playoff hopeful, and now it appears Northwestern is one win away from reaching its first Rose Bowl since coach Pat Fitzgerald was a Wildcats' player in 1995.
It's Northwestern's first appearance in Indianapolis and one Fitzgerald believes is overdue.
"We've been building this program now for 13 years and a lot of thoughts, a lot of emotions when we pulled in here," Fitzgerald said, recalling what former coaches Gary Barnett and Randy Walker did for the program and his career. "This was the next hurdle for our program to get over. The next goal is to win it."
Again, the doubters give the Wildcats no chance against the suddenly resurgent Buckeyes.
Ohio State was installed at a two-touchdown favorite Saturday, one week after they hung 62 points on one of America's stingiest defenses. They're led by Big Ten offensive player of the year Dwayne Haskins, who set conference single-season records for yards passing (4,081) and touchdown passes (42).
And while Northwestern relies on an old-school style, Fitzgerald knows just how well the Wildcats must play to give themselves a chance against a team that seemingly needs a huge win to impress the selection committee.
"I only deal with it when you ask me, so it's not uncomfortable," Meyer said about what the Buckeyes must do. "We don't deal with it."
STYLE POINTS COUNT
Meyer may not believe his team needs in style points. His players understand, though.
"I think it's very important," senior wide-receiver and team captain Terry McLaurin said. "In situations like this it's great to get the win because you have a conference championship in your belt. But it's pretty obvious that the committee looks on how you beat teams and how you look collectively on offense and defense."
HEISMAN HOPEFUL
Haskins was the obvious choice as this season's top Big Ten player. How obvious?
"If I had a Heisman vote, I would have voted for him," Fitzgerald said Friday. "He's a complete player and you watch the type of leader that he is and you hear a young man who says 'I'm at 60 or 70 percent of what I can be,' that's scary."
ALL GOOD
Meyer's anguished sideline demeanor has sometimes led to speculation he could soon retire. He has acknowledged a cyst in his head flares up and causes severe headaches during stressful times. One such headache dropped him to a knee during an October game.
The stress was compounded by a three-game suspension to start the season for his mishandling of a now-fired assistant who was accused of domestic abuse.
When asked how he felt earlier this week, Meyer said "good" before steering the conversation back around to football.
BIG STAGE
While Fitzgerald said he treated this week like a normal road game, it's not.
Fifty buses full of students are expected to make the trek from Evanston, Illinois, to Indy and Fitzgerald hopes the school's men's basketball team will swing by Lucas Oil Stadium on its way home from Bloomington.
For Northwestern, all this is new.
"They have been in some bowl games and we've found a way to get on the podium in two big games, last year in Nashville and two years ago in New York City," Fitzgerald said. "Those were great opponents and atmospheres. We've been in some big games, been on the short end of it this year obviously, but I think our guys have learned from it."