Offseason Options: Candidates to start at 1B for 2021 Brewers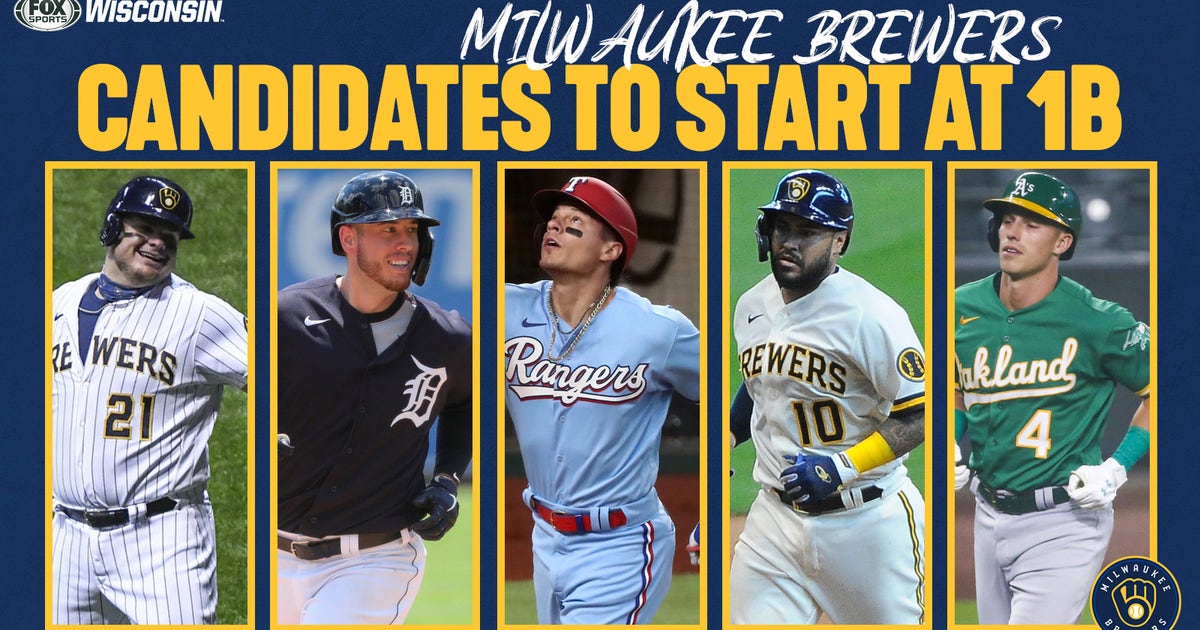 One of the questions at the start of the offseason for the Milwaukee Brewers was who will be their starting first baseman in 2021?
With less than a month before spring training is scheduled to begin, the question remains.
In last year's shortened 60-game sprint, Milwaukee had six different players start at first. Of those six, just two remain on the roster in some fashion and they combined to start just four games.
Below we'll take a look at some potential ideas of how the Brewers' first-base situation could unfold, starting with those on the 40-man roster, delving into free agents still available and then others who are in the system or who will be camp:
40-MAN ROSTER
Keston Hiura: We already know what kind of hitter Hiura can be at the major-league level and his numbers would look just fine at first base. But here's where we note that Hiura has never played first base in the majors, minors or college. Yes, he's had his struggles at second base and playing first might be a bigger issue. Manager Craig Counsell did approach Hiura late last season after Justin Smoak was released, but he never played an inning at first. Maybe that's a tell? This would of course open up a spot at second base and Hiura's bat at second is a bigger plus then Hiura's bat at first. The question then would be: Is it worth the move?
Mark Mathias: We list him because Mathias, a super-utility player, appeared three innings at first base for the Brewers in 2020. That was just his second time as a pro playing first (he was in for six innings at Double-A Erie in 2018). We'd be shocked if he got regular playing time, but he is on the 40-man roster, so perhaps he sees some time at first.
More Brewers coverage
Billy McKinney: McKinney was plucked off waivers from Toronto on Sept. 14 but didn't play in a game fo the Brewers. McKinney doesn't have a lot of experience at first base, 10 games with one start in the majors and 10 games with eight starts in the minors, but that's the case for a lot of Milwaukee's in-house options. In 124 career MLB games with the New York Yankees and Blue Jays, McKinney, a former first-round pick of Oakland, has slashed .231/.291/.437 with 18 home runs.
Omar Narvaez: Milwaukee currently has six catchers on its 40-man roster, including Narvaez, who is the presumptive starter at that position for 2021. Narvaez actually began his pro career with Tampa Bay splitting time at catcher and first base in the minors. He's played just one game – for five innings – at first in the majors, in 2017 with the Chicago White Sox. All things being equal, you'd rather see him behind the dish, but if no other options emerge and Milwaukee wants to find a way to actually have three catchers on the roster, using Narvaez at first would be one way. Despite his bad year at the plate in 2020, he's shown to have some of the preferred batting tools for the position (he gets on base and has good pop).
Jacob Nottingham: Like Narvaez, this would be another way to have three catchers on the roster. Plus, he seems a little boxed out behind the plate with Narvaez and Manny Pina both returning. Unlike Narvaez, though, Nottingham has played first base recently. He had 51 games of experience there in the minors with 42 starts, including 17 games and 14 starts at the Triple-A level. Nottingham bats right-handed (unlike many first baseman), so there's a possible platoon split here. He has some pop, too, with a .432 slugging percentage in 85 major-league plate appearances.
Daniel Vogelbach: Acquired off waivers from Toronto on Sept. 3, Vogelbach appeared in 19 games for the Brewers, including two starts at first base. With the designated hitter in the National League up in the air for 2021, Vogelbach was nevertheless re-signed by Milwaukee. All signs indicate the DH will be back — although it would be nice to know officially – and Vogelbach figures to slot in there, although he could see time at first. If there's no DH … we'd expect the left-handed hitting Vogelbach to at least platoon over there. He slashed .328/.418/.569 for Milwaukee in his limited time in 2020. In 2019, he mashed 30 homers for Seattle.
FREE AGENTS
C.J. Cron: Milwaukee has signed power-hitting first basemen in the past (think: Chris Carter, Justin Smoak, Eric Thames) with mixed results. Cron, a right-handed hitter, could fit in nicely with the Brewers' lineup. He was limited in 2020 and had to have knee surgery, but is expected to be ready for spring training. Cron owns a .464 career slugging percentage and hit 30 home runs in 2018 with Tampa Bay and 25 with Minnesota in 2019. He doesn't need to sit against right-handers (career .451 slugging), but if you're thinking platoon, Cron does have a career .274/.324/.495 slash line against left-handers.
Derek Dietrich: Dietrich fills the profile of what the Brewers like in a lot of their players – position versatility. Another left-handed hitter who is perhaps best suited to a platoon, Dietrich owns a career .428 slugging percentage and has hit double-digit home runs in four seasons, including a career-high 19 in 2019 with Cincinnati. He's not a first baseman by trade – 88 career games with 64 starts – but could bounce around at second, third and left field (and DH, if there is one).
Jedd Gyorko: Gyorko started 26 games at first base for Milwaukee last season. He played in 42 games overall and slashed .248/.333/.504 – Gyorko had the highest slugging percentage for anyone on the Brewers with 70+ plate appearances. Of course, Milwaukee could have kept him but decided on paying him a $1 million buyout instead of keeping him for $4.5 million in 2021 (he would have made $1 million in a normal season in 2020).
Jake Lamb: Speaking of platoons, Lamb has mashed right-handed throughout his career to the tune of .257/.342/.463. He's struggled the past couple of years after having a solid 2016-17, which featured seasons of 29 and 30 home rums with Arizona. Small-sample size, but he played well after getting a change of scenery. Signing with Oakland following his release by the Diamondbacks, he slashed .267/.327/.556 in 49 plate appearances.
NON-ROSTER/MINOR-LEAGUE PLAYERS
Zach Green: Signed to a minor-league contract in December with an invitation to spring training, Green is definitely a dark horse candidate – but a candidate nonetheless. Green has mainly played third base in his time in the minors – and he appeared there exclusively in a five-game stint with San Francisco in 2019 – but he does have 185 games of experience with 178 starts. Green didn't play last season but he displayed a lot of power in 2018 and '19. In 2018 with Double-A Reading he slashed .281/.356/.532 with 20 home runs in 114 games and followed that up with a .282/.380/.659 line with 25 homers in just 72 games with Sacramento in 2019.
Jace Peterson: We don't expect Peterson to be Milwaukee's first baseman – his bat tends to profile more as a utility player – but he did start two games there, and appear in two others, for the Brewers in 2020. He was brought back on a minor-league deal with a spring training invite. Peterson slashed .200/.393/.356 in 61 plate appearances last season.
Chad Spanberger: Acquired from Toronto in February 2020 for pitcher Chase Anderson, Spanberger didn't play in 2020. He slashed .298/.355/.538 with 27 home runs in 2018 for three Single-A minor-league teams, but slumped to .237/.308/.399 in 122 games in Double-A in 2019. He is, however, a first baseman by trade, although he appeared mainly in the outfield in '19.