Underdog Eagles not feeling intimidated by Pats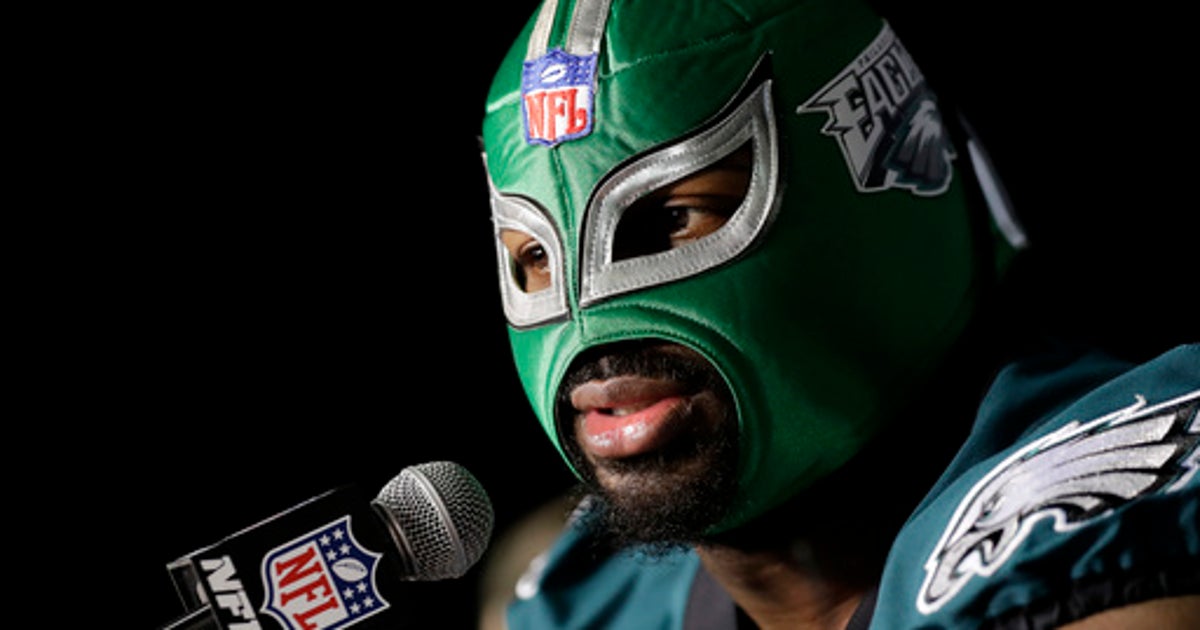 BLOOMINGTON, Minn. (AP) — Wrestling masks have replaced the dog masks.
The underdog Philadelphia Eagles are having fun with the media frenzy leading up to the Super Bowl against the New England Patriots. They're staying relaxed, loose and won't be intimidated by their opponent's incredible success.
Three-time Pro Bowl defensive tackle Fletcher Cox and All-Pro right tackle Lane Johnson on Wednesday donned masks that resembled the ones WWE star Rey Mysterio and other luchadores wear in the ring.
"This was a gift from Mexico so I can have super powers all week," Cox said about the green mask featuring an Eagles logo.
"I'm just having fun right now. We know why we're here. We can't come into this all uptight. You have fun when it's time to have fun and get serious when it's time to get serious."
Johnson and defensive end Chris Long pulled out German shepherd masks and wore them off the field and in their interviews after the Eagles beat Atlanta in the divisional round. The Eagles (15-3) were the first No. 1 seed to enter their first playoff game as an underdog.
The city, which has always had an underdog personality, embraced the masks. Johnson and Long then turned it into a charitable venture . They created underdog T-shirts that were sold with all proceeds going to the Philadelphia school district's not-for-profit arm.
The Eagles were underdogs again in the NFC championship game and routed the Vikings 38-7. They're in the same spot against the Patriots, who are 4-point favorites on Sunday.
But these Eagles don't fear Bill Belichick, Tom Brady or New England's dynasty. Johnson called Brady a "pretty boy" and made it clear he's not bothered by the hype.
"I definitely respect him and all that he's done in this league," Johnson told The Associated Press. "I'm not going to go into the Super Bowl worshipping this man and make him more than what he is. No disrespect.
"As far as bulletin-board material, they can put it on their nightstands for all I care, in their bathrooms, I don't care. I don't think you need any motivation to play in the Super Bowl. They know that."
Brady and Belichick have led the Patriots to five Super Bowl titles, including two of the past three seasons. They beat the Eagles 24-21 in the big game 13 years ago.
Philadelphia players respect the duo's accomplishments, but aren't going into the game already defeated. Several players were part of a 35-28 upset win at New England in 2015. The Eagles were a losing team under Chip Kelly that season, but still went on the road and knocked off the 10-1 Patriots.
That won't matter when the teams meet for the Vince Lombardi Trophy. Still, it's a confidence-booster for some guys.
"I think when you've been playing for a long time, you've had games where you've played unbelievable players and unbelievable coaches," All-Pro center Jason Kelce said.
"To me, this isn't any different. These guys have been more consistent throughout the years, but this is the NFL. You play good players every week. There's good coaches you go against every week. I don't think you look at this any different than the fact that this is just another game. You see what they do really well and how you can defend it."