Around the bags: Astros 1B Gurriel out 6 weeks as hand heals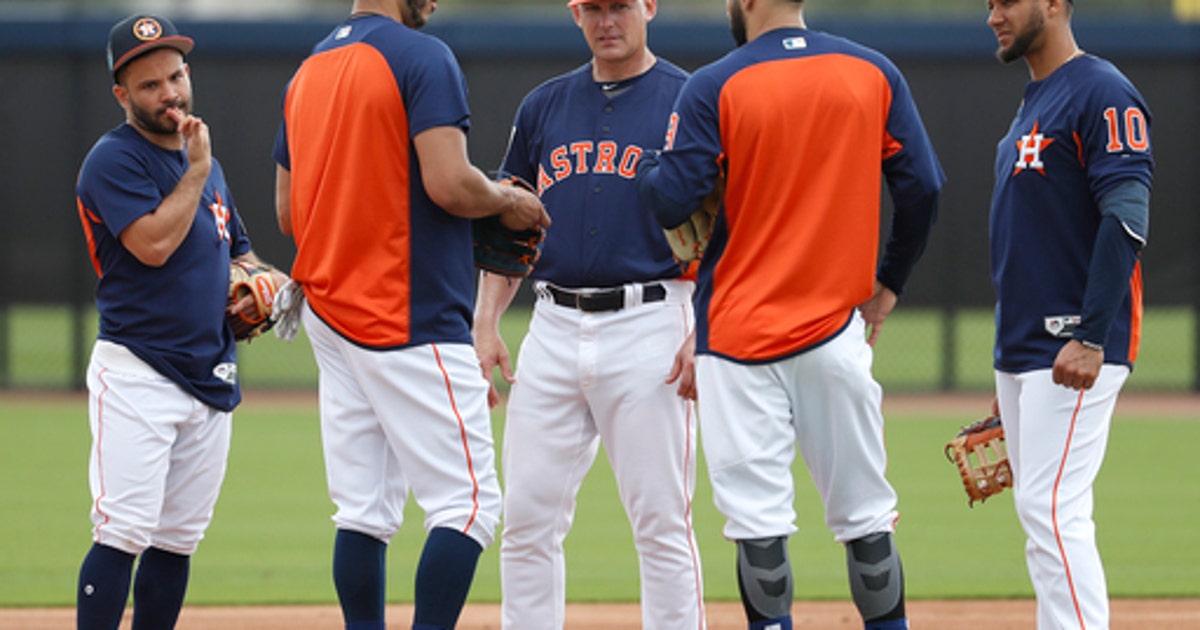 Houston Astros first baseman Yuli Gurriel will have to wait even longer before playing this season.
Gurriel had surgery on his left hand Wednesday and the normal recovery time is six weeks.
Opening day for the World Series champions is March 29, when the Astros visit Texas. When Gurriel returns, he will serve a five-game suspension imposed by Major League Baseball for making an inappropriate gesture toward Dodgers pitcher Yu Darvish during the World Series.
Astros general manager Jeff Luhnow said Gurriel's hand was broken before he came to camp. Luhnow said he did not know the original cause of the fracture.
"It was non-symptomatic until recently and he started to feel something," Luhnow said. "Once you start feeling something, the right course of action is to just remove it because it's a pretty reliable surgery, and we know what the outcome is going to be."
The 33-year-old Gurriel hit .299 with 18 homers and 75 RBIs last year in his first full season in the majors. He played in one exhibition game this spring and homered.
A.J. Reed, J.D. Davis and Tyler White will get time to audition as a replacement.
Houston also can turn to Marwin Gonzalez, who feels comfortable all over the field. He played 31 games at first last year, and led Houston with 90 RBIs.
"Marwin will get a few more reps at first, although he doesn't need as many reps at first given that we still want to move him around quite a bit," manager A.J. Hinch said.
AROUND THE GRAPEFRUIT AND CACTUS LEAGUES
TWINS (SS) 4, ASTROS 2
Jose Altuve went 3 for 3, George Springer had two hits and scored a run and Alex Bregman homered for Houston. Lance McCullers Jr. started for the Astros and allowed two hits with three strikeouts in two innings. Erick Aybar had two hits and scored a run for a Minnesota split squad.
TIGERS 9, YANKEES 6
Giancarlo Stanton and Aaron Judge played together for the first time with the Yankees. Stanton doubled, singled and scored on a home run by Gary Sanchez. Judge went 0 for 2 as the DH in his first game since shoulder surgery last November. Daniel Norris started for Detroit and retired the last four batters he faced after Sanchez's first-inning homer.
RED SOX 4, PIRATES 3
Xander Bogaerts hit an RBI double for Boston. The Red Sox bullpen threw 6 2/3 shutout innings. Pittsburgh starter Chad Kuhl pitched two perfect innings. Starling Marte drove in a run and scored.
RAYS 3, TWINS (SS) 1
Byron Buxton had the only two hits for Minnesota's split squad, including a solo homer. Twins closer Fernando Rodney pitched the fourth inning and allowed one run on a hit and a walk. Ryan Yarbrough started for Tampa Bay and gave up one hit in two shutout innings. Rays infielder Matt Duffy was scratched because of back spasms.
MARLINS 3, NATIONALS 1
Nationals star outfielder Bryce Harper was scratched due to an ingrown toenail and likely won't play again until this weekend.
Miami starter Odrisamer Despaigne threw three perfect innings and struck out four. Washington starter Tanner Roark allowed two unearned runs in two innings.
CARDINALS 10, ORIOLES 9
Manny Machado hit a grand slam and singled for Baltimore. Chris Davis added a three-run shot.
Yairo Munoz homered twice in the seventh inning and drove in four runs for St. Louis. The Cardinals got the 23-year-old shortstop/outfielder in the winter trade for Stephen Piscotty. Munoz got three hits for the second straight day.
METS 6, BRAVES 4
Matt Harvey allowed a run on two hits in two innings in his first spring start for New York. He fanned two and walked one. Zack Wheeler, who hopes to be part of the Mets' rotation, pitched the fourth and allowed a run on three hits. Atlanta starter Brandon McCarthy threw three scoreless innings.
BLUE JAYS 7, PHILLIES 1
Curtis Granderson hit a three-run homer off Philadelphia starter Vince Velasquez. Aaron Altherr had a pair of singles for the Phillies. Blue Jays closer Roberto Osuna pitched a shutout fourth inning.