Judge, Stanton, Sanchez all in Yankees' lineup for 1st time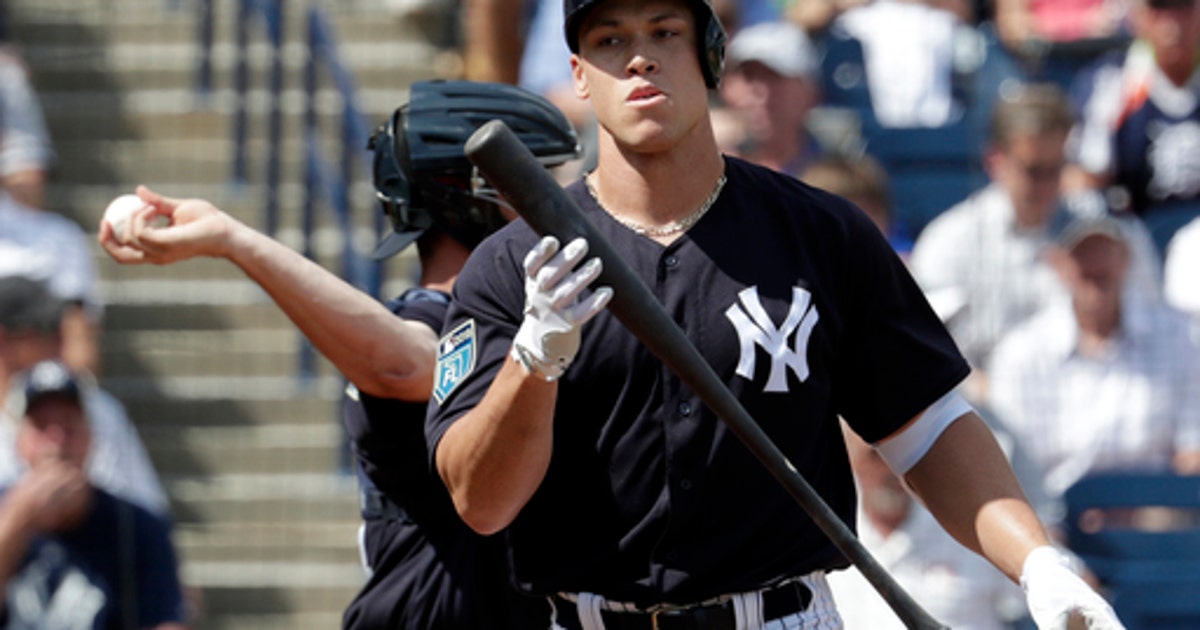 TAMPA, Fla. (AP) New York Yankees' fans had been waiting for this: Aaron Judge, Giancarlo Stanton and Gary Sanchez hitting back-to-back-to-back.
With the slugging trio in the lineup together for the first time, Sanchez hit a long home run, Stanton had two hits and Judge hit a hard grounder in Wednesday's 9-6 spring training loss to the Detroit Tigers.
Stanton reached on a pop-fly single to right with one out in the first and Sanchez sent the next pitch from left-hander Daniel Norris over the left-center field scoreboard at Steinbrenner Field.
"It feels great when you hit squarely," Sanchez said through a translator.
Norris didn't watch the ball leave the park.
"It was really loud," he said. "I figured it was gone. A first-pitch ambush heater that got hit really far."
Stanton, acquired from Miami in December, also doubled off the right-field wall and flied out to deep center. Sanchez added a soft single to center.
"It looked like he was back in the (home run) derby kicking my butt," Stanton said of Sanchez.
Judge, the designated hitter in his first game since offseason left shoulder surgery, struck out and hit a smash down the third-base line that Jeimer Candelario snagged with a backhand grab while on one knee.
"It felt great," Judge said. "It felt like an opening day, getting a chance to be back out with the guys again. Making the progress we wanted."
Judge was the unanimous AL Rookie of the Year after hitting a league-high 52 homers with 114 RBIs. He had surgery Nov. 20 for loose-body removal and cartilage clean up.
Sanchez had 33 homers last year despite missing most of April with a biceps injury. His early power impressed Judge.
"I feel like he can just wake-up out of bed with no swings, get into a game and do that," Judge said.
Stanton won the NL MVP award last year after hitting a big league-high 59 homers with 132 RBIs.
New York's lineup was filled with most of the players likely to start the March 29 opener at Toronto, though new Yankees manager Aaron Boone said against most right-handers he likely will break his sluggers.
"Murderers' row," a smiling Norris said.
Notes: OF Clint Frazier, who sustained a concussion when running into a fence during Saturday's game against Pittsburgh, rode a stationary bike for 11 minutes and took 25 swings. He has a slight headache but said he is feeling better. … LHP CC Sabathia is to make his first spring training start Thursday against Philadelphia. … RHP Masahiro Tanaka had a 27-pitch bullpen session in preparation for his initial start Friday.
—
For more AP baseball coverage: https://apnews.com/tag/MLBbaseball